Pellegrini Olivet Lane Heritage Pinot Noir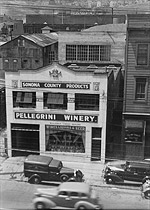 Bob Pellegrini is one of the wine patriarchs of the Russian River Valley. He has been involved with wine in one way or another his entire life and he can weave many fascinating tales about the wine business both during and after Prohibition. The Pellegrini Family traces its wine business heritage to the early 1900s when brother Nello and Gino Pellegrini immigrated to New York City from their native Tuscany. They soon traveled to California and began shipping Sonoma County grapes throughout the United States for home winemaking. They also supplied the many Italian San Franscians who made wine in their basements both before and during Prohibition. After the repeal of Prohibition in 1933, the family started the Pellegrini Wine Company, shipping grapes from Sonoma County and making wines for San Francisco's best restaurants. Later the family moved into wholesale distribution of imported and domestic wines.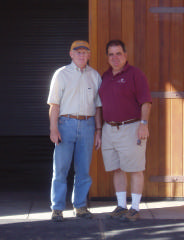 In 1973, Nello's son, Vincent, purchased a 70-acre apple and plum orchard on West Olivet Road in Santa Rosa. Vincent's son, Bob, was fresh out of school and had just returned from a tour of Burgundy when he had the idea (crazy at the time) to plant Pinot Noir on the property. In the early 1970s, Pinot Noir vineyards were far and few between in Sonoma County (Joe Rochioli first planted his East Block Pinot Noir in 1968). In 1975, Bob planted the Olivet Lane Vineyard to Chardonnay and Pinot Noir (Martini clones) with the only cuttings available at the time. Fortunately, the family had a wine import business which kept them afloat as the winegrowing business developed. Bob says today he was just naïve enough at the time to think it would work, but if he knew then what he knows today, he would never have done it. The Olivet Lane Vineyard continues to thrive on rootstock vulnerable to phylloxera and has now seen 32 vintages. It is one of California's cherished heritage Pinot Noir vineyards. Bob is pictured left. Note the large trunk size of the old vines.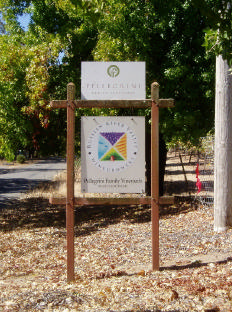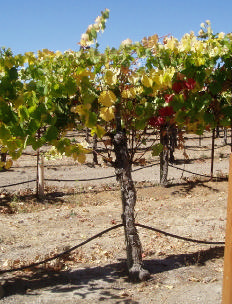 Vincent Pellegrini died in 1989, and remaining family members Robert, Richard and Jeanne took over management of the wine business with the aim of focusing on premium estate-bottled artisan wines. Besides farming the Olivet Lane Vineyard, the family acquired the 55-acre Cloverdale Ranch in the Alexander Valley allowing them to produce a whole range of varietal wines. In 2001, a state-of-the-art Tuscan style winery was built on the Olivet Lane Estate. In 2003, the family purchased a 12-acre vineyard of old-clone Zinfandel alongside the Olivet Lane Vineyard. A top winemaking team was assembled headed by talented Kevin Hamel. The wines have steadily improved and numerous awards have been forthcoming.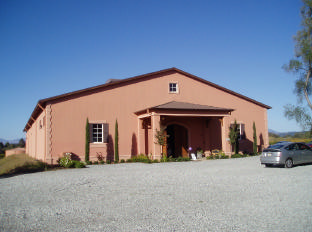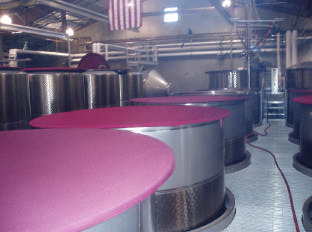 You must avail yourself of Olivet Lane Estate Pinot Noir. There are only a few other heritage vineyards in the Russian River Valley including J. Rochioli East and West Block and the Bacigalupi Vineyard, both on Westside Road, and the Trenton Estate Vineyard at Joseph Swan.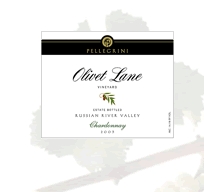 2006 Pellegrini Olivet Lane Estate Russian River Valley Pinot Noir
14.6% alc., $36. 10% whole clusters placed with remainder of the de-stemmed fruit and lightly crushed. After a 3 day cold maceration, the vats were inoculated with a selected strain of yeast. Fermentation lasted 12 days with traditional hand punch downs. Aged 11 months in a combination of French and Eastern European oak, 33% new. · Sensuous aromatics featuring Bing cherry, anise, toast and strawberry. The core of red fruits is tasty and forward but elegant in presentation. The wine is supple in the mouth with pleasing persistence and has a refreshing acid lift on the finish. Impeccable balance. Ready to drink now, it will remain a really lovely wine over time. With a comfortable price point, this is one to buy by the case.
Pellegrini Family Wines is located at 4035 West Olivet Road in Santa Rosa. The tasting room is warm and inviting and the staff is very friendly. Located in the winery, the tasting room is open daily from 10:30 to 4:30. Tours are by appointment and highly recommended if Bob or Kevin are available. The phone is 1-800-891-0244. Wines may be ordered on the website at www.pellegrinisonoma.com. There is good retail distribution.