Small Sips of California Pinot
Note: A well-known winemaker crafting Sonoma Coast Pinot Noir spoke to me about the smoke taint issue recently. He told me no one completely escaped smoke in the 2008 vintage on the North Coast. It all comes down to how the smoke affected the wines. Many producers have been reluctant to talk about it because any mention of it comes as an indictment of the wine and the winery that decided to release it. Some wine show elevated levels of smoke relative to clean years, but the result can be complimentary and contribute to the complexity of the wine. I feel that the 2008 Morlet Pinot Noirs have a subtle smoky edge which may be more apparent to a wine critic like myself. Some consumers may find the wines very enjoyable, especially those that prefer oak-derived flavors in wine.

2008 Thomas Fogarty Santa Cruz Mountains Pinot Noir
14.1% alc., pH 3.80, 1,593 cases, $29. 50% estate vineyard and 50% six other Santa Cruz Mountain vineyards. · Shy but pleasant aromas of berries, Herbs de Provence, and the slightest oak and mint. Flavors veer to the red/blue fruit spectrum including strawberries, cranberries and blueberries with a hint of herbs in the background. Balancing t n 'a. A solid wine that will perform well at the dinner table. Good.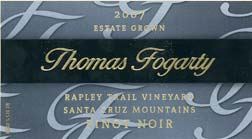 2007 Thomas Fogarty Rapley Trail Vineyard Estate Grown Santa Cruz Mountains Pinot Noir
14.5% alc., 125 cases, $48. The first Rapley Trail Pinot Noir since 2004. Aged in 43% new French oak barrels for 18 months and was bottled unfiltered. · Opens slowly in the glass, revealing shy scents of berry compote and oak. Vivid, fresh fruit saturates the palate showing red and black cherries and berries with a lingering berry and citrus tang on the finish. Terrific finesse and very soft in the mouth. A well structured and harmonious wine that is entirely seductive, but needs time for the aromatics to catch up to the flavors. Very good (+)

2008 Thomas Fogarty Rapley Trail Vineyard Block B Estate Grown Santa Cruz Mountains Pinot Noir
13.8% alc., <50 cases, $68. First B Block since 2004. Aged in 50% new French oak barrels and bottled unfiltered. · Very expressive aromas of wild berries, violets, brioche, graham and a hint of smoky oak. A delicious panoply of fruit flavors that really stick to your mouth. Dark red berries and strawberries in abundance with undertones of savory herbs and forest floor. Everything is proportioned and singing in harmony. This wine's character supersedes the delicious fruit. Brilliantly crafted and flatout great. The impeccable balance predicts a long life ahead.
Note: At Thomas Fogarty winemakers Michael Martella and Nathan Kandler ferment all the Pinot Noirs in small lots, including between 25% and 50% whole clusters and using indigenous yeast fermentations. The press fraction is kept separate allowing a later decision on its inclusion. The wines are aged in 3-year air-dried French oak barrels. The Rapley Trail Vineyard was planted in 1981 and has long been the backbone of the "Estate Reserve" Pinot Noir. Beginning in 2002, portions of the vineyard have been bottled separately.