Pinot Briefs —Newsletter 6.41
Dutton-Goldfield After a four year hiatus, Dutton-Goldfield is releasing a Freestone Vineyard Sonoma Coast Pinot Noir. This is a vineyard that requires perfect October weather to ripen and when it does reach maturity, the result is lively blue and black fruit, alluring baking spice, and all of the depth that coastal Pinot Noir can provide. Dan Berger declared it "Exceptional" in his newsletter and in a future issue of the Wine Enthusiast it will receive a score of 96. Only 361 cases, $58. Can be ordered online at www.duttongoldfield.com. 707-823-3887.
Varietal Wine Grape Juice First Blush is an exclusive offering through Whole Foods Markets. The four juices include Cabernet, Merlot, Chardonnay and a Zinfandel rosé (no Pinot Noir so far). Aris Janigian, part of a grape growing family in the San Joaquin Valley of California is the co-founder of the First Blush juices along with Victoria Briggs. The juice is made from grape concentrate, not pressed juice. Cost for 16 oz is $4. Sugar content is 16%+. Although the marketing material emphasizes the health benefits of the antioxidants in the juice, grape juice without alcohol does not confer the same health benefits as wine. Www.firstblushjuice.com.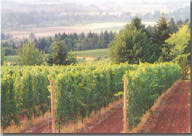 25th Anniversary of Wine Touring in Willamette Valley
November 23-25, 2007 marks the 25th annual Wine Country Thanksgiving in Oregon's Willamette Valley. Many small, family-owned wineries are only open to the public Thanksgiving and Memorial Day weekends. Each winery organizes their own events ranging from tours, to sampling new releases and library wines, to artisan food tastes, art displays and live music. More than 120 wineries will welcome visitors Thanksgiving weekend. Looking back to the first Wine Country Thanksgiving, there were only 9 wineries: Adelsheim, Amity, Arterberry, Chateau Benoit (now Anne Amie), Elk Cove, Erath, Eyrie, Hidden Springs, and Sokol Blosser. For a complete listing of wineries open during Thanksgiving weekend, visit the Willamette Valley Wineries Association website,
www.willamettewines.com
, and request a free touring map and guide. The 2008 Guide to Willamette Valley Wineries includes 167 member wineries and tasting rooms. Besides highlighting Willamette Valley's seven American Viticulture Areas (AVAs), it includes dining, lodging and attractions. For additional travel information, consult
www.TravelOregon.com
.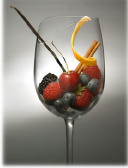 Silhouette Wine Glass
Now that you have several different types of Riedel stems crowding your cabinet space for your various red and white wines, along comes a novel design that claims to do the work for all of them. A notched wine glass, Silhouette, is a handcrafted crystal stem that is said to be "the only wine glass in the world that harmonizes the true dimensions of taste." Its notch design allows easy pouring with no dripping and the shape creates a "cyclone effect" that aerates the wine quickly, and allows the drinker to intimately extend the proboscis into the glass to capture the aromas. I have not personally sampled the stemware, but I am leery of the hype. They are priced at $54 each at
www.greatestwineglass.com
.
A Moveable Thirst This book chronicles the travels of two people throughout the Napa Valley who visit every tasting room that allow visitors in the Valley (141 to be exact). Rick Kushman, who wrote the book, is a television columnist for the Sacramento Bee, and his companion Hank Beal, is a wine buyer for Nugget Market. This is an excellent guide of wineries to visit sprinkled with many humorous anecdotes about tasting room experiences, many of which we can all relate to.