A Taste of Noiregon, Vintages 2005 & 2006
The Willamette Valley of Oregon has become a treasure chest of Pinot Noir. The wines of the 2005 and 2006 vintages demonstrate commendable quality and consistency. 2005 was a warm and dry vintage. The early part of the year was the driest on record in the Willamette Valley. Rains finally came in May during bloom reducing the crops levels. Summer was warm, but not hot, allowing extended hang time and comfortable harvesting before the November rains arrived. 2006 was an ideal vintage marked by a mild spring with ideal fruit set, and a warm summer (the only warmer vintage in Oregon was 2003). Only a few hot days marked the fall and harvest continued smoothly. The resultant wines have excellent flavors and natural balance.
2006 marks the 40th anniversary of Oregon's Pinot Noir industry. David Lett arrived in the Willamette Valley in 1965, a fresh graduate of University of California Davis and 3,000 cuttings in tow. He had chosen Oregon despite the widespread teachings of the time that vinifera would not prosper and ripen in Oregon. He groomed his cuttings in a nursery until he found a suitable site in the Dundee Hills. In 1966, Lett planted Pinot Noir, Chardonnay and Pinot Gris and Eyrie Vineyards was born. He bought a small chicken processing plant in McMinnville and began making wine. Lett is acknowledged as the first to plant Pinot Gris in America, but whether he or Charles Coury was the first to plant Pinot Noir in the Oregon is uncertain.
Charles Coury began his career in the wine business in California as a sales representative for Julius Wile Importers but soon decided to attend University of California Davis to learn to make wine. His now famous Master's Thesis of 1963 was titled, "Cold Limit Amelioration Hypothesis." He was convinced that vinifera produced the best wine when it ripened at the upper limit of the growing season. Armed with this theory, he also set out for Oregon, convinced that the climate there most closely approximated that of Burgundy. He planted Pinot Noir in Forest Grove, just west of Portland, and made some very credible wines.
Lett is the most well-known of the pair and is often referred to as "Papa Pinot." Coury eventually left the wine business and founded the first microbrewery in Oregon. It wasn't long before many other pioneering winegrowers arrived in Oregon, including Dick and Kina Erath, Cal Knudsen, Dick & Nancy Ponzi, Suzanne and Bill Sokol Blosser, David and Ginney Adelsheim, Jim and Loie Marsh and many others of importance but less repute. At the end of the 1980s there were 1,000 acres of Pinot Noir vines in the Willamette Valley. By the year 2000 there were 5,000 acres of Pinot Noir, a total estimated to at least double by 2010. Major vineyard investors are now prominent in the Willamette Valley including Wine Trust and Premier Pacific Vineyards who lease blocks in their managed vineyards to wineries on a long-term basis.
Angela
Angela is a single Pinot Noir produced from a single vineyard, Clawson Creek Vineyard, in the Yamhill-Carlton appellation of the Willamette Valley. The owners are two husband-and-wife teams who have taken their passion for wine to the next level buying and developing a new vineyard and proudly releasing their first wine in 2008.
Antony Beck is part of the family that owns Graham Beck Wines of South Africa and he oversees the family's thoroughbred horse breeding farm in Kentucky. His wife, Angela Beck, is an entrepreneur herself, owner of a designer table linens and accessory company called Pomegranate, Inc.. Robert Rosenstein is a wine and spirits retailer, also located in Kentucky, and his wife, Dr. Kim Clawson Rosenstein is a practitioner of integrative medicine.
Beck met up with noted winemaker Ken Wright who led them to a special site for Pinot Noir located on a ridge in the Yamhill-Carlton District. One of the unique features of the site is the consistent layer of 30 to 36 inch top soil throughout the site. Under the direction of vineyard manager, Mark Gould, planting of 21 acres started in 2006, with another 13 acres following suite in 2007. The clones are Dijon 115, 777 and Wädenswil 2A.
In March of 2008, the inaugural Angela Pinot Noir was released. Ken Wright crafted the wine. Although the label says Clawson Creek Vineyard, the grapes for this inaugural wine must have been sourced elsewhere as the vines were first planted in 2006.
2006 Angela Clawson Creek Vineyard Yamhill-Carlton District Oregon Pinot Noir
13.5% alc., 400 cases, $50. Aged 10 months 60% new French oak. · Dark reddish-purple robe. Fragrant aromas of black cherry, plum, prune and toasted oak entice. A plush and rich palate of black cherry, cassis and blackberries with a subtle woodsy note. Smooth with soft tannins and a healthy acid spine. A compelling wine of great merit.
Angela Pinot Noir is available through limited retail distribution. Sign up for the mailing list on the website at www.angelapinotnoir.com.
Antica Terra
Antica Terra ("old earth" in Latin) was started by a pair of New Yorkers in 1989 who made small amounts of distinguished Pinot Noir for several years. The vineyard and label was bought in June of 2005 by three friends and partners who brought in talented winemaker Maggie Harrison, a former assistant winemaker to Manfred Krankl at Sine Qua Non in Ventura, CA. The 6-acre estate vineyard is in the Eola-Amity Hills appellation. Annual case production is 850 cases. The inaugural release vinified by Maggie Harrison is the 2006 vintage. The Willamette Valley bottling is a blend of grapes from the Eola-Amity hills property (52%) as well as Amity Hills Vineyard, Shea Vineyard, and Croft Vineyard. A second, more limited, release is called Botanica ($62), made in superior vintages. The 2006 version is limited to 173 cases and is primarily Shea Vineyard fruit.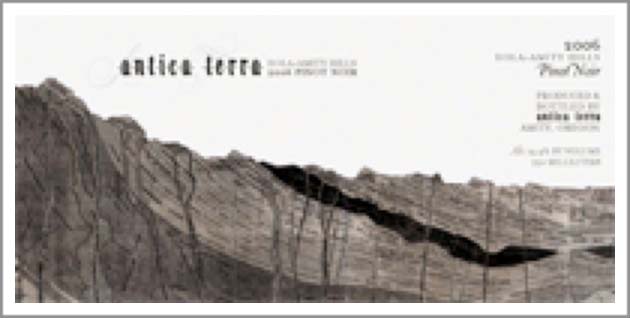 2006 Antica Terra Willamette Valley Pinot Noir
14.4% alc., $46. Bottled in a tall Riesling-type bottle. · Deep reddish-purple color. Alluring aromas of black cherry, fresh berries and toasty oak leading to a full-on delicious black cherry and ripe plum attack. A touch of earth, spice and anise adds interest. Rich, velvety and full with bracing acidity on the finish.
Antica Terra is distributed through retail channels in Oregon and sold on the website at www.anticaterra.com. 503-244-1748.
Arterberry Maresh
The Maresh family has had a long and memorable presence in the Dundee Hills of Oregon. I spoke with Martha Maresh and she detailed the family history. Jim and Loie Maresh were Wisconsin natives who met as students at Marquette University. The two bought a 26-acre farm in the Dundee Hills in 1959. They expanded their holdings as Jim worked for Dunn & Bradstreet and served as a reserve officer in the Navy in Portland. Originally, theirs was the only home on their hill and they enjoyed the life of farming cherries, nuts and prunes. In 1969, David Lett had the only vineyard in Yamhill County. At the time, Dick Erath suggested to the Maresh family that they had a superior site for growing grapes. In 1970, they followed his suggestion and planted three acres of vines.
Jim and Loie had five children. One daughter, Martha, married Fred Arterberry who was one of the first Oregon winemakers to have a degree from University of California Davis. Arterberry was well known in wine circles in Oregon and produced many award-winning wines. Martha and Jim had a son, named Jim Arterberry Maresh. When the eldest Jim died, Martha remarried but kept the last name Maresh.
The Maresh estate now consists of 124 acres of several varieties including Pinot Noir and Chardonnay. About half the grapes (600 cases) are vinified as Red Barn Pinot Noir. This wine has been made by several winemakers through the years (the Maresh's traded grapes for wine) and sold only through the Red Barn tasting room. The remainder of the grapes Pinot Noir are sold to Daedelus Cellars, et Fille, Scott Paul, and Sineann. Rex Hill produced a Maresh Vineyard Pinot Noir for many years until the winery was sold a few years back.
Martha is not only a dedicated vineyard worker, but quite a talented baker. When we stayed at the Maresh Retreat, she was kind enough to bake us a cherry pie from her 80-year-old Queen Anne cherry trees and this was the best pie I had ever eaten in my life. The large four bedroom house on the property has become a community gathering spot and is available for rent (www.vineyardretreat.com). The tasting room is a short stroll away and is pictured on the right. Two views of the Maresh Vineyard are below. Note the deep rust-red color of the Jory soil, the origin of the name, Red Hills of Dundee.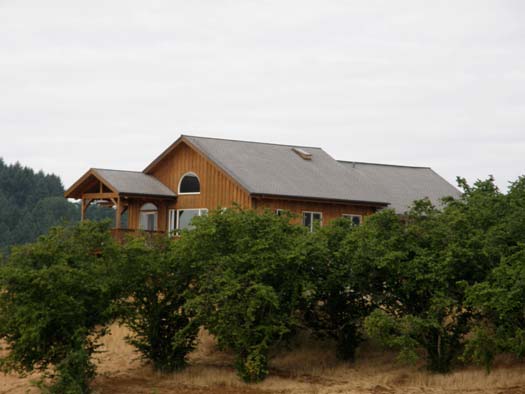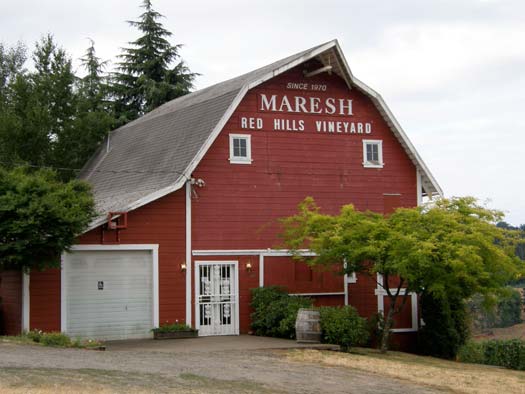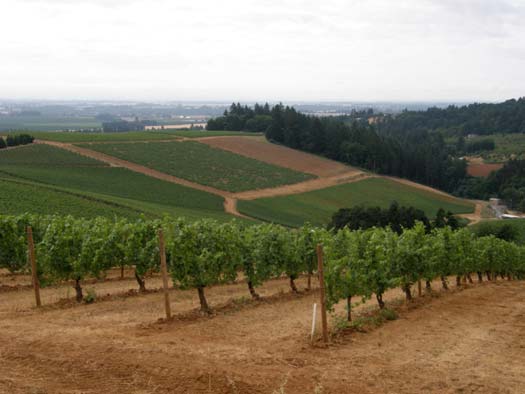 Jim Arterberry Maresh is only twenty-four years old, but is already becoming touted as the "Best Young Oregon Winemaker" (see www.avalonwine.com). His father's label, Arterberry Cellars, disappeared when Fred died. Jim began "messing around" making wine in 2001, and in 2007 he revived the label as Arterberry Maresh, releasing his inaugural wines from the 2005 vintage. His 2006 Pinot Noirs are quite impressive and three of them are reviewed below. The aromatics and elegant style are especially notable. All wines are hand-crafted and spend 18 months in barrel.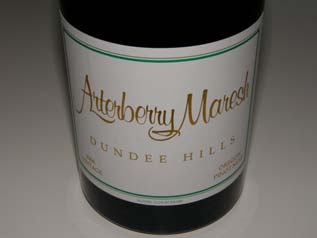 2006 Arterberry Maresh Dundee Hills Oregon Pinot Noir
13.5% alc., 125 cases, $35. This wine is made from declassified old vine fruit from non irrigated vines in the Maresh Vineyard. · Displaying a lighter crimson color than the other two Arterberry wines, the nose is classic Chambolle with hitoned red cherry, baking spice and oak. Redder fruits including strawberry are nicely weighted and balanced with bright acidity and subtle oak tannins. The flavors and aromas dissipate with time and air. A comforting Pinot that the Pinot Geek likes to drink now.
2006 Arterberry Maresh White Rose Vineyard Dundee Hills Oregon Pinot Noir
13.9% alc., 50 cases, $75. · Aged in neutral oak but still showing some aromas of new sawn oak along with bright cherries and berries. Discreetly concentrated black cherry and blackberry flavors envelope the tongue with a silky creaminess. Commendable balance of perfectly ripe fruit, lively acidity and fine-grained tannins. I was wanting for a little more lingering finish.

2006 Arterberry Maresh Maresh Vineyard Dundee Hills Oregon Pinot Noir
13.5% alc., 75 cases, $75. From non irrigated old vines. · Intense deep, dark reddish-purple color. Alluring and complex aromatics brimming with ripe grapes, plums, fresh bread and herbs. Darker Pinot fruits carry the theme on the palate with overtones of savory herbs, forest floor and oak. A commendable effort that has a subtle richness and refined mouthfeel. This wine has impressive breeding and it shows it.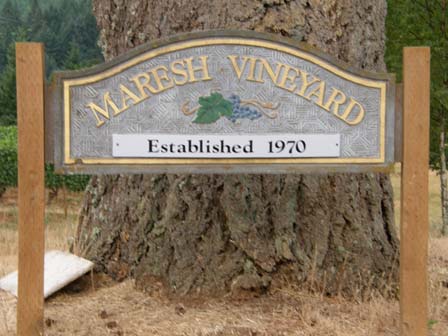 Arterberry Maresh wines are sold through limited retail distribution within Oregon. Avalon Wine Co. is source (http://avalonwine.com/Arterberry-Maresh-Cellars-2006-Wines.html). 503-434-7689. You can reach Jim Maresh through the website at www.arterberrymaresh.com.
Cristom Vineyards
This is one of my favorite Oregon wineries and I stock my cellar with Cristom Pinot Noirs on a regular basis. The wines are consistently excellent, age very well, and show a Burgundian sensitivity. In addition, Cristom Pinot Noirs are available in half-bottle sizes for earlier consumption.
Cristom's founder and owner, Paul Gerrie, used his skills as an engineer and avid researcher to pursue his passion for wine. On his travels to France, he was introduced to the traditional growing practices of the Burgundy region. He learned that soil (terroir) and site were key in developing the complexity of the fruit.
After a 1991 visit to the International Pinot Celebration in Oregon, Paul decided the time was right to leave the East Coast and bring his family and his passion for great Pinot Noir to Oregon's burgeoning wine country.
Their dream wasn't complete without a winemaker who shared Paul's vision of "letting the land make the wines." Enter Steve Doerner who, after a quarter century of experience, still believes the winemaker's job is to "optimize what nature and the vineyard provides." Besides his reputation as a master winemaker with "keen intuition" (possibly from his French heritage), Steve graduated from University of California Davis with a degree in biochemistry and never intended to make wine originally. He eventually found his way to Calera Vineyards with owner Josh Jensen and stayed fourteen years. He also studied under Jacques Seysses of Domaine Dujac.
The engineer and the biochemist set out to cultivate their vision in 1992, which today, can be seen in the seven distinct vineyards on Cristom's 65 acres in the Eola-Amity Hills appellation. The vineyards are dry-farmed, planted to high density and yields are strictly reduced. The Pinot Noir vineyards (named after family members) include Marjorie, Louise, Jessie, Eileen and Emilia, and vineyard-designates are produced from each. There is also a Sommers Reserve and a Mt Jefferson blend of the appellation. An equally fine Chardonnay and Pinot Gris are also produced. Experimentation with Viognier and Syrah has begun, both varietals that are rarely found in the Willamette Valley. Production is about 10,000 cases annually.
The Pinot Noirs are vinified using native yeasts and with minimal handling. Gravity is used at every step and the wines are unfiltered. All the wines display stunning aromatics which pick up intensity in the glass and soft, caressing textures. There is plenty of beauty in the wines below and like a Miss Oregon pageant, hard to pick a winner. If I could have only one, it would be the 2006 Cristom Eileen Vineyard.
Cristom wines are distributed through fine wine stores and are sold on the website at www.cristomwines.com. A seasonal tasting room is open at the winery located at 6905 Spring Valley Road NW in Salem. The phone is 503-375-3068.
Et Fille Wines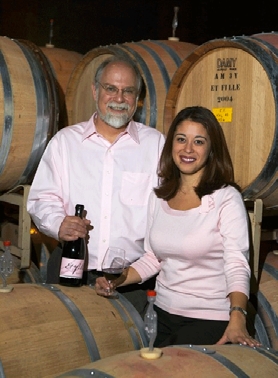 Howard Mozeico started making wine in his garage in 1984. He became quite accomplished, garnering seven Gold Medals for his Pinot Noir in seven state home winemaking competitions. He was encouraged by friends and relatives to become a full-time winemaker and when his daughter, Jessica, agreed to assist him with the 2000 vintage, he began his commercial winemaking career. The name Et Fille ("a few") was chosen, which in French means "and daughter." Howard jokes, "Mozeico Et Fille" just wouldn't work. His wines have been well reviewed and soon he plans to leave the software company he co-founded to devote himself entirely to Et Fille.
Howard's goal is to craft small lots of distinctive single vineyard Pinot Noirs that reflect the unique character of each individual vineyard. No two of his wines are vinified exactly in the same fashion, making each wine a distinctive expression of a specific Oregon terroir. He sources grapes from several prime vineyards including the well-known Maresh Vineyard.
The wines are vinified at August Cellars, a modern gravity flow winery just off Highway 99W in Newberg. August Cellars was founded by Tom Schaad and is fashioned after the Carlton Winemaker's Studio, which hosts ten wineries under one roof. At August Cellars, eight separately bonded wineries share space and equipment. Each winery has its own dedicated space for storing barrels during the blending and aging process. The facility opened in 2004. Production at Et Fille is small, about 1,500 cases. The wines are all aged for 10 months in 44%-50% new French oak.
The 2006 vintage lineup of Et Fille Pinot Noirs is impressive. All the wines are marked by balance with nothing sticking out. The winemaking shows a light hand with the wines elegantly weighted and presented. Tres Pinot.
Most of the Et Fille wine is sold through a mailing list. Tasting with Howard at August Cellars can be arranged by appointment (503-449-5030).
Hamacher Wines
Eric Hamacher is one of many winemakers who started out on a career path to becoming a doctor but switched to making wine. After working a harvest, he was hooked, and attended University of California Davis, receiving a degree in viticulture and enology. He gained experience at various wineries including Mondavi, Chalone and Etude and finally ended up in Oregon.
With his wife, Luisa Ponzi, he started the 2000 case winery, Hamacher Wines, in 1995. Eric was the driving force behind the Carlton Winemaker's Studio, a "green" LEED registered cooperative winemaking facility that opened in 2002 and is now home to as many as twelve different wineries. The 15,000-square-foot gravity flow winery is a partnership between Eric and his wife Luisa Ponzi, winemaker at Ponzi Vineyards, and Ned and Kirsten Lumpkin of Lumpkin Construction in Seattle and Lazy River Vineyard in Yamhill, Oregon.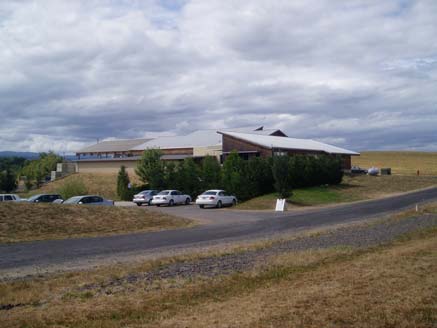 Originally, Eric was committed to aging his wines before release (18 months in barrel and another 18 months in bottle) and he was one of the last to release a vintage Pinot Noir. More recently he has bowed to current winery protocols and has just released the 2006 vintage of his Hamacher Pinot Noir. Eric sources fruit from up to twelve different vineyards for the single Pinot Noir he produces under the Hamacher label. A value-priced Pinot Noir from declassified fruit is released under the H label.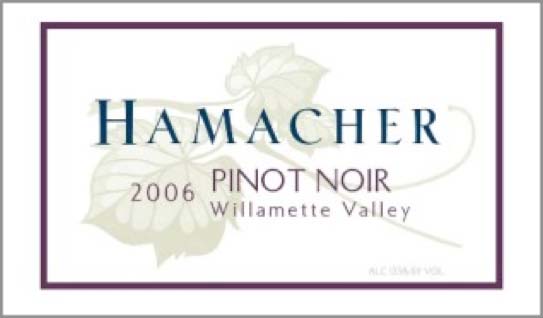 2005 Hamacher Willamette Valley Pinot Noir
13.5% alc., $37. · Subdued, but pleasant scents of red fruits, Jolly Rancher red, and herbs. Restrained and elegant stylistically with a graceful core of darker red berries and cherries and a deft touch of oak. Soft and silky and very round with a finish that fades gently over time. A pristine Pinot of great charm.
Hamacher Wines are distributed through fine retail stores and sold on the website at www.hamacherwines.com. The wines are available for tasting daily at the Carlton Winemaker's Studio, located at 801 N Scott St, in Carlton (www.carltonwinemakersstudio.com).
Holloran Vineyard Wines
A very small (2,000 cases) producer of vineyard-designate wines established in 1999 and located in West Linn, just north of Corvallis. The three vineyard sources include: Le Pavillon Vineyard located in the Dundee Hills with vines over 30 years old, farmed organically since 1999 and biodynamically since 2005; La Chenaie Vineyard in the Eola-Amity Hills appellation currently transitioning to organic farming; the estate Meute de Chiens Vineyard in West Linn planted to six clones of Pinot Noir and farmed organically.
The top cuvees are offered under the Holloran label and are crafted by noted winemaker Jay Christopher Somers (formerly Cameron Winery and now with his own label, J. Christopher Wines) with assistance from Mark LaGasse. Winemaking is traditional with minimal handling, small lot fermentations, no fining or filtering. A second, value-priced line of wines is bottled under the Stafford Hill label.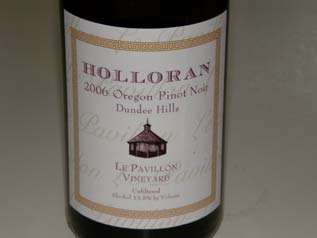 2006 Holloran Le Pavillon Vineyard Dundee Hills Willamette Valley Pinot Noir
13.5% alc., $33. · Not a terribly deep or complex wine, but one that has admirable finesse and easy drinkability. Plenty of black cherry and black raspberry fruit to satisfy with a hint of oak spice and char. Soft, clean and nicely balanced. Similarly styled to Jay Christopher's own wines, this one is impressive for the money and worth seeking out.
Holloran Vineyard wines have good retail distribution on the East and West coasts. The website offers little information at www.holloranvineyardwines.com. The phone is 503-638-6224.
Penner-Ash Wine Cellars
Lynn and Ron Penner- Ash craft their Pinot Noirs in a newly constructed gravity flow winery located on 80 acres in Newberg, OR. Lynn attended University of California Davis, switching majors twice, changing from botany to viticulture and then to enology before she found her chosen career path. After graduation, she started out as an enologist for Stag's Leap Wine Cellars. Four years later, she was off to Oregon and became the winemaker at Rex Hill Winery in 1988. In partnership with her husband, Ron Penner-Ash, she started her own label in 1998 while still at Rex Hill. She made the first Penner-Ash wines at Carlton Winemaker's Studio. In 2001 she and her husband decided to devote all of their energies to developing their own brand and she left Rex Hill in 2002. She has a touch with Pinot Noir and her wines have received well-deserved praise from the wine press. Ron has left his teaching career behind and is involved in the winery's vineyard management and marketing.
The lineup of Penner-Ash Pinot Noirs includes a Willamette Valley appellation blend, Shea Vineyard Pinot Noir, Dussin Vineyard Pinot Noir, Goldschmidt Vineyard Pinot Noir, Seven Springs Vineyard Pinot Noir and a Pinot Noir/Syrah blend labeled Rubeo. The wines (also including Syrah and Viognier) are sold on the website and through retail channels. Total production is 6,000 cases.
2006 Penner-Ash Wine Cellars Willamette Valley Pinot Noir
14.5% alc., 4,500 cases, $48. From different vineyards in the northern part of the Willamette Valley. · Shy, but charming dark red fruits and a sniff of spice that builds in intensity in the glass. A bit reticent black cherry core with a sidecar of cola and grilled meat, plenty of unresolved tannins, and a little heat on the finish. Just not together right now.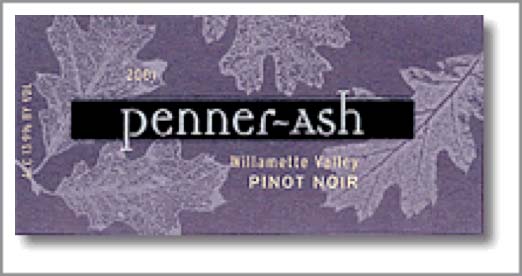 2006 Penner-Ash Dussin Vineyard Willamette Valley Pinot Noir
14.5% alc., $60. Penner-Ash is surrounded by the Dussin Vineyard located high on a ridge in the Yamhill-Carlton District. Chris and Tyanne Dussin are the owners. · The wine sports darker Pinot fruits in the nose and the fruit is echoed in the flavors. A beautiful wine which is full, plush and creamy in the mouth displaying deft use of oak and a refreshing and lingering finish. Still a bit shy, the wine picks up intensity and complexity in the glass over time. I would give this one a couple of years in the cellar, but it will be tough to avoid the temptation to open it now.
Penner-Ash Wine Cellars wines are sold on the website at www.pennerash.com and through retail channels. A tasting room is located at the winery, 15771 NE Ribbon Ridge Rd in Newberg. Call for hours (503-554-5545).
Privé
Mark and Tina Hammond hand craft their Pinot Noirs from two acres of vines planted on their estate on Chehalem Mountain. He is the steward of the vineyard and she makes the wines. This division of labor is convenient because Mark can blame Tina and visa-versa if there is a problem with the outcome of the finished wine. They bottle three wines, Le Sud from the South 1 acre, Le Nord from the North 1 acre, and Joie de Vivre, a reserve. Quantities are miniscule and demand is high. Privé ('private') Vineyard is probably Oregon's smallest winery at 250 cases. Certainly it is among the most exclusive. The Pinot Noirs made here are highly sought after, but with such a small production, all the wine is currently allocated to a full mailing list (you can ask to placed on a waiting list, but as accommodating as the Hammonds are, begging will not work). Remarkably, the first vintage (2001) sold out in six months, the second in two weeks. Now everything is sold on futures.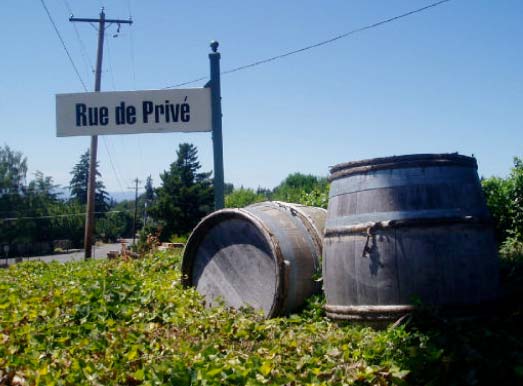 This estate vineyard was first planted in 1980. When the Hammonds bought the property on Chehalem Mountain, the house was run-down and the vineyard neglected. In 1995, they took cuttings from Patricia Green at Autumn Wind and grafted the now twenty-five-year-old Müller-Thurgau vines (a cross of either Riesling and Sylvaner or two strains of Riesling) over to Pinot Noir (100% Pommard). 95% of the grafts took, and later vines were re-grafted that did not take initially.
Precision viticulture is practiced here, made possible by the small size of the vineyard. Mark pulls off secondary clusters which pull energy from the vine, so that there is one cluster per shoot. Usually he leaves the lower cluster unless the top is healthier. Yields are 1' to 2 tons per acre. He uses organic sulfur aggressively every week starting in the spring to ward off mildew. Gradually, he tapers to every three weeks, and stops spraying on August 1. The vineyard is LIVE certified but not organic as they use Roundup to control weeds (the only inorganic chemical used). Experienced pickers are hired at harvest, but otherwise this is truly a family run estate.
Tina is a talented self-taught winemaker who has a knack for making Pinot Noir with heavenly balance. Women winemakers may have a special talent for this. David Westrey, of Westrey Wines in McMinnville, Oregon has said, "Women show a sense of balance in winemaking that you don't see with men." The grapes are 100% de- stemmed. No crush is employed to retain the maximum number of whole berries. The grapes are meticulously sorted, placed in 1 ton plastic fermentation bins, and allowed to cold soak for an average of 4-5 days. Le nord sees 15% new oak and 1, 2 and 3 year-old barrels. Le sud, from the lower block, is aged in 100% new French oak. It is a more cellar-worthy wine. A reserve, labeled Joie de Vivre ('joy of life') is made in limited amounts. Whichever direction you turn, Nord or Sud, there is an elusive kind of romance waiting.
There is a lot to be said about both the art and science of winemaking. The Hammonds obviously studied their trade in depth through travels to Burgundy and basic wine science courses taught in nearby Salem. However, there is the work of artists evident here that shows through in the charm of these Pinot Noirs. The Hammonds are quite humble about their success to date. Their business model is such that a really bad vintage could severely hamper their dreams. Tina likes to joke, "Mark will have to get a real job." They kid each other about what each one would do. Mark thinks he might pump gas because he has always dreamed of this outdoor job. Now that is real humility.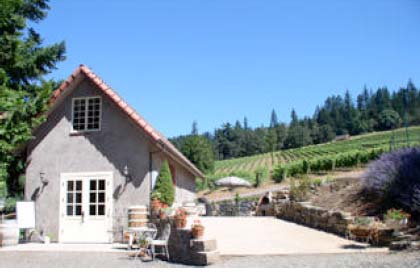 Privé Vineyard Pinot Noirs are sold exclusively as futures through a mailing list which is now full. Occasionally bottles show up on the secondary market. The website is www.privevineyard.com and the phone is 503-554-0464. Please do not contact Privé with unrealistic expectations for there just isn't any wine available. If the opportunity arises, the Hammonds plan to add to their vineyard holdings and production would increase modestly. The 2005 vintage Pinot Noirs are not as pleasing to me as I have come to expect from Privé, at least as tasted at this time. The important lesson here is that not all vintages are the same and you have to be loyal to a producer, accepting their best effort each year. Remember, each vintage is a different song, but the composer is the same.
Resonance Vineyard
Kevin and Carla Chambers farm the 20-acre Resonance Vineyard biodynamically (Demeter certified) and make the wine at Carlton Winemaker's Studio under the corporate name of Reed & Reynolds. For nearly 20 years, the Chambers sold all of their grapes to other wineries, but starting with the 2006 vintage, they held back 14 tons of Pinot Noir and started producing wine under their own label. They plan to keep about half their production for their own Resonance Vineyard label and sell the other half to winemaker Peter Rosback of Sineann.
Kevin and Carla own Oregon Vineyard Supply and Results Partners, a vineyard management and development company that farms over 800 acres of vineyards in the northern Willamette Valley. Kevin was named Oregon Wine Industry Man of the year in 2005.
The Resonance Vineyard is located on a south-facing hillside in the Yamhill-Carlton District AVA. The entire site is dry-farmed. The Biodynamic® certification by Demeter encompasses the entire 32-acre farm. The Chambers craft a 150-ton organic compost pile every other year for ground application. The vines are virtually all own-rooted and the oldest blocks are 26 years of age.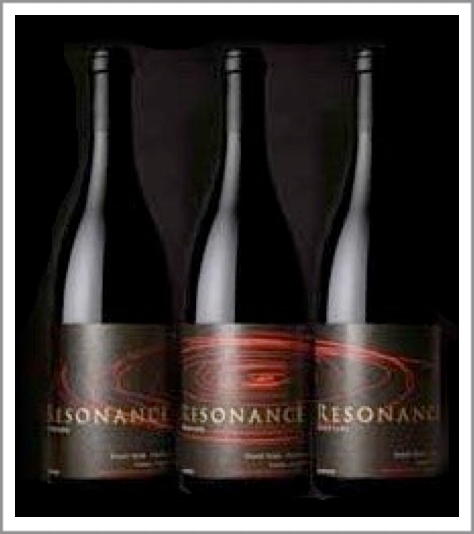 2006 Resonance Vineyard Yamhill-Carlton District Willamette Valley Pinot Noir
13.8% alc., $49, glass "Vino-Seal" stopper. The clonal mixture is Dijon 777, Pommard, and Wädenswil (about a third of each). The Pinot Noir was co-fermented with Gewürztraminer, also from Resonance Vineyard, to heighten aroma and spice complexity. Fermentation was carried out with natural yeasts and water was added to reduce the potential alcohol (natural grape sugars were as high as 27.5° Brix). Aging progressed in two-thirds new French oak. The wine was produced according to biodynamic standards. · A full-scented nose of black cherries and strawberries with a hint of herbs and mocha. The flavors echo the aromas. A dancing Pinot that is light on its feet and supple in the mouth. The tannins are powdery and the sweet fruit leaves a memorable aromatic scent at the finish. This is one you will want to spend the night with.
Resonance Pinot Noir is sold through retail distribution and on the website at www.resonancevineyard.com. Visit the very informative website for more information. 503-437-4212.
The Four Graces
This is a relatively new producer in the Willamette Valley named for the four daughters of proprietors Steve and Paula Black. The inaugural vintage was 2003. The wines are sourced from the family's 54-acre vineyard in the Dundee Hills AVA. This vineyard will soon receive LIVE credentials. Pinot Noir clones planted here are 113, 114, 115, 777, Pommard and Wädenswil. A second vineyard, Doe Ridge, located in the Yamhill-Carlton AVA, was purchased and replanted in 2005 by the Black family and will see its first full harvest in 2008. The Doe Ridge Vineyard is unique in that it consists of two 20-acre parcels divided by a canyon, with one parcel farmed biodynamically and the other one farmed according to LIVE guidelines. It will be interesting in the future to compare the wines that originate from the two parallel portions of the same vineyard. The winery's consulting winemaker is Laurent Montalieu.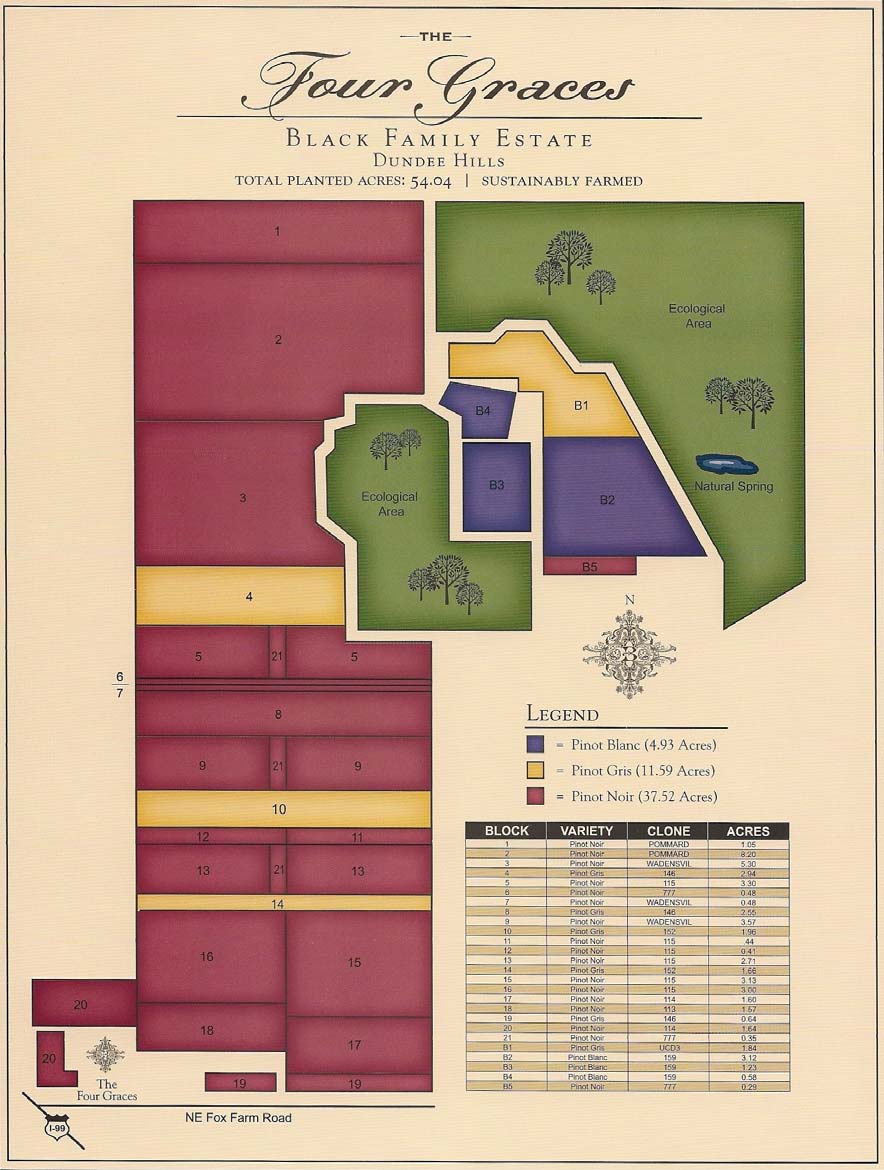 I tasted through the latest releases from The Four Graces and was impressed by all three wines. They are very well crafted and worth a serious look.
2006 The Four Graces Estate Willamette Valley Pinot Noir
13.9% alc., 7,400 cases, $27. Aged 10 months in 30% new French oak. · Aromas of oak char, grass and forest floor dominant the ripe dark red fruits present. Cherry and berry flavors are quite juicy and accented by toast and a hint of spice. The wine is very smooth on the palate with silky tannins and a pristine finish. A warm and fuzzy wine.

2006 The Four Graces Estate Reserve Dundee Hills Willamette Valley Pinot Noir
14.2% alc., 2,755 cases, $42. Aged 13 months in 46% new French oak and an additional 7 months in bottle before release. · The aromas of Bing cherry, cedar and vanilla draw you to the glass. There is the slightest hint of alcohol on the nose. Succulent hi-tone red fruits, especially raspberry, set off by brown sugar and dark chocolate notes, are soft, seamless and comforting. Definitely worthy of a "Reserve" designation. Pinot Geek wanted to drink the whole bottle.
2005 The Four Graces Black Family Estate Dundee Hills Willamette Valley Pinot Noir
14.5% alc., 400 cases, $75. Blended from the best barrels. Unfined and unfiltered. Primarily clone 115 grapes were fermented with proprietary yeast. Aged in 46% new oak barrels for 9 months and an additional 2 years in bottle before release. · This wine is quite dark in color, veering toward dark violet and brimming with scents of crushed black cherries and vanilla. High-collared dark stone fruit flavors are discreetly concentrated so that the wine is plush but still light on its feet. An appealing earthiness and smoke add to the intrigue with a silky smooth texture and a tangy, dry finish completing the package.
The Four Graces wines are distributed nationally and are available at www.thefourgraces.com. The winery's tasting room, located at 9605 NE Fox Farm Road in Dundee is open daily from 10-5. 503-554-0632.
Westrey Wine Company
Amy Wesselman may be best known as the long time Executive Director of the annual International Pinot Noir Celebration in McMinnville, Oregon (2008 was her last year of leadership), but she is also a terrific winemaker. Together with co-winemaker David Autrey, the two founded Westrey Wine Company in 1993. The name Westrey comes from their collaborative winemaking effort (Amy WESselman and David AuTREY). Each has had extensive winemaking experience (Amy at Oregon's Bethel Heights, Rex Hill and The Eyrie Vineyards and Burgundy's Domaine de L'Arlot; David at Oregon's Adelsheim, Cameron and Burgundy's Domaine Dujac). The two met while studying philosophy at Reed College in Portland and their philosophy of winemaking is nicely summed up in their tag line: "Texture and terroir amidst post industrial splendor."
Initially Westrey owned no vineyards, sourcing grapes from some of Oregon's top vineyards including Croft, Abbey Ridge, Bethel Heights, Temperance Hill, Anderson Family and Laurel Hood. In 2002, they bought about 50 acres in Yamhill County next to Abbey Ridge Vineyard and planted 5 acres to vines. This was advantageous for they had worked with Abbey Ridge Vineyard fruit for several years.
Starting with 400 cases in 1993, Westrey currently produces around 3,200 cases in a small winery in McMinnville, with a goal of reaching 6,000 to 8,000 cases over the next ten years. In their winemaking, new oak is kept to a minimum for Pinot Noir and Chardonnay. The Alsatian-inspired Pinot Gris sees no oak or MLF. Their style is a departure from many Oregon producers with more emphasis on structure, texture and aging potential. To that end, their wines tend to have higher acidity, a nod to their Burgundian training.

2005 Westrey Reserve Willamette Valley Pinot Noir
13.5% alc., $30. · The finest barrels from each lot blended into a limited cuvee. Similar to the Oracle Vineyard bottling but richer and more reticent. Aromas of cherries, herbs, hay and oak build in intensity with time in the glass. The fruits are dark and substantial but the wine retains admirable finesse. There are still some tannins to shed but when this one reaches its apex in a few years, it will be one heck of a celebration.
Westrey Wine Company is located at 1065 NE Alpine St, McMinnville. The website is www.westrey.com and the phone is 503-434-6357. The wines, including older vintages are sold through retail channels. Prices are very sensible, ranging from $18 to $36. I am sure Amy or David would be happy to have you taste by appointment.
Willamette Valley Vineyards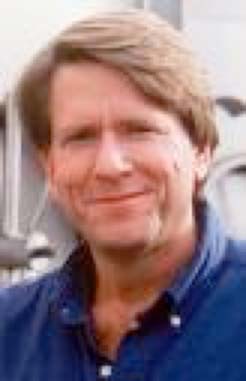 Jim Bernau (pictured right) founded Willamette Valley Vineyards in the southern Salem hills in 1983, planting Pinot Noir, Pinot Gris and Chardonnay in the central Willamette Valley in Turner, Oregon. A home winemaker and small business lobbyist at Oregon's State Capital, he cleared the blackberry vines and remnants of a plum orchard himself and remembers watering the fledgling vines with a garden hose by hand. Initially he sold his grapes to Dick Erath. The winery quickly grew into Oregon's leading producer of wines selling at $15 and above only three years after its first release of Pinot Noir. Today, Willamette Valley Vineyards is the third largest Oregon Winery by brand and production releasing approximately 111,700 cases of wine each year. About half of the production is Pinot Noir. The winery now has over 4,500 owners, a result of the nation's first successful self underwritten public offering (1989, Nasdaq WVVI). Jim Bernau was named Purveyor of the Year in 2007 by the Oregon Restaurant Association for his tireless lobbying for the Oregon hospitality industry.
The Estate Vineyard consists of 50 acres of Pinot Noir planted to Pommard and Wädenswil clones. The winery and underground cellar are carved into the top of an ancient volcanic flow. In 1997, Willamette Valley Vineyards acquired Tualatin Estate, near Forest Grove, and plantings there have been increased using new rootstocks and Dijon clones of Pinot Noir. Both the Estate and Tualatin Vineyards are are certified LIVE and Salmon Safe.
The current winemaker is Forrest Klaffke, brought in from California by former Willamette Valley Vineyards winemaker Dean Cox. Forrest was promoted to winemaker several years later after Joe Dobbes, the winemaker who followed Cox, started his own Oregon winery in late 2001. Forrest has now worked in wineries for over 28 years. He spends a considerable amount of time attending to every detail in the vineyards. Vineyard Manager Efren Loeza began his career at Tualatin in 1979 at 17 years of age and has worked in the vineyard and in the cellar there ever since. Efren lives on the estate in the farmhouse built by the original owners of the property. He now has nearly 300 acres under his supervision.
This is an innovative and progressive winery. In 2005, they were the first winery to include resveratrol levels on their wine labels. More recently, they became the first winery to use cork stoppers harvested from forest lands certified by the Rainforest Alliance to Forest Stewardship Council (FSC). The company has launched a cork recycling initiative with Amorim and recycles used wine bottles. In the past the winery made its own fuel and now use bio-fuel from a potato chip plant.
I sampled four 2006 vintage Pinot Noirs from Willamette Valley Vineyards. All the wines had alluring aromatics and were beautifully balanced. This is a label, despite its large size, you can rely on for consistently fine wines. The general winemaking regimen for Pinot Noir is as follows. The grapes are de-stemmed with approximately 50% to 70% of the grape berries remaining intact for intra-berry fermentation. A four to five day cold soak of the must is followed by inoculation with proprietary yeast. Fermentation progresses in small lot .5 ton and 1.5 ton vessels (for the Willamette Valley blend, 10 ton vessels are also used). Hand punch downs of the cap are employed in the smaller vessels, pneumatage in the 10 ton fermenters. The wine is racked to barrel where it finishes primary fermentation and undergoes MLF. The Willamette Valley blend and the Estate Vineyard bottling are filtered and the Tualatin Estate and Signature Cuvee are unfined and unfiltered.
Willamette Valley Vineyards address is 8800 Enchanted Way, SE, Turner, OR. The phone is 503-588-9463. The wines are widely distributed in the United States and are sold on the winery's website at www.willamettevalleyvineyards.com. A tasting room is open from 11-6 daily. Tours are by appointment. The Willamette Valley appellation blend is consistently a fine value in quality Oregon Pinot Noir. The Tualatin Estate and Signature Cuvee bottlings are only sold in the tasting room and offered as a benefit to the winery's wine club (Oregon Wine Guild) members.
Winderlea Vineyard & Winery
The Winderlea (Win-dur-lee) Vineyard was formerly known as the Dundee Hills Vineyard when it was first planted in 1974 by John and Sally Bauers. It was rechristened Goldschmidt Vineyard after the former Oregon governor who purchased the property in 1998. Located in the heart of the Dundee Hills adjacent to a portion of Maresh vineyard and across the street from Le Pavillon Vineyard along Worden Hill Road, this 16.5-acre vineyard has supplied grapes to some of the Willamette Valley's most prominent wineries including Dusky Goose, Patricia Green Cellars, Penner-Ash, R. Stuart & Co., and Adelsheim Vineyard.
In 2006, Bill Sweat and Donna Morris left the East Coast for Oregon and the next year bought the Goldschmidt Vineyard, renaming it Winderlea Vineyard. The name Winderlea is derived from a Vermont property the couple owned and is a German word loosely translated as "valley protected from the wind." The husband and wife team developed a passion for Burgundies in the 1990s and found Oregon Pinot Noir was the next best thing. They brought on Robert Brittan, the winemaker at Stags Leap Winery for 16 years, to assist Bill and direct the new Pinot Noir program. Brittan himself bought 128 acres in the Willamette Valley, and plans to craft Pinot Noir and Syrah under his own label, Brittan Vineyards. A stunning metal and glass tasting room and winery was built and positioned to take advantage of panoramic views of the Dundee Hills and the Willamette Valley to the East. As I noted earlier in this issue, during the IPNC, I stayed in a retreat on the Maresh property which is only a few steps from the Winderlea Vineyard and Winery. The photos are quite striking (below).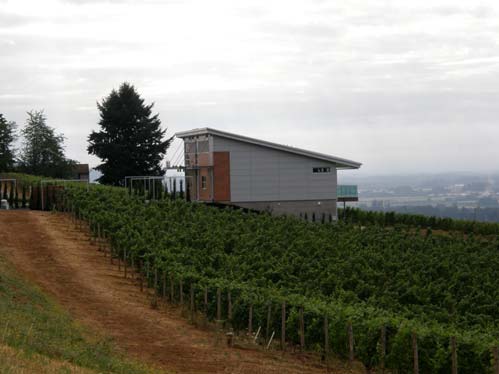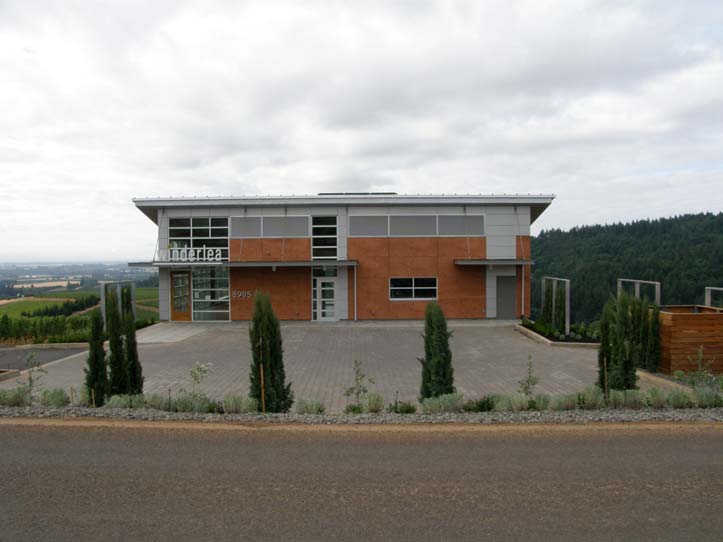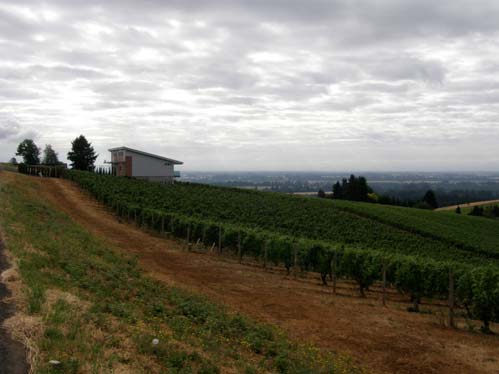 For the full story on Winderlea Vineyard, consult the excellent article written by Jean Yates, proprietor of Avalon Wine, a top source for Oregon Pinot Noir: "Winderlea Vineyard. A Diamond in Oregon Wine's 'Gold Coast,' " at www.avalonwine.com/Winderlea-Vineyard.php.
I tasted the two inaugural releases of Winderlea Pinot Noir. Total production was tiny (a total of 575 cases) but will increase in the future as the owners retain more of their own fruit (according to Jean Yates, only Dusky Goose and Penner Ash Wine Cellars will still receive grapes after the 2006 vintage). These two wines are very impressive and this is a producer to latch onto for the future.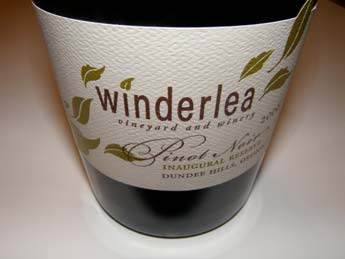 2006 Winderlea Vineyard & Winery Dundee Hills Inaugural Reserve Willamette Valley Pinot Noir
14.2%alc., $50. Sourced from the Ana and Weber vineyards which are located next to Winderlea. These two vineyards are among the oldest self-rooted Pinot Noir vines in Oregon dating back to 1976. The clones are primarily Pommard and 777. · Lovely aromatics featuring ripe and deep red fruits that are nicely spiced with a touch of pear and rose petal. Deep cherry flavors accented with notes of cocoa and pear. Very smooth and stylish with soft tannins.
2006 Winderlea Vineyard & Winery Goldschmidt Vineyard Dundee Hills Willamette Valley Pinot Noir
14.6% alc., $50. Labeled Goldschmidt Vineyard because the vineyard was still owned by Neil Goldschmidt in 2006. Clones 115, 667 and 777. · Heavily perfumed with deep, dark fruit, toast, and wild flowers. Dark red berries and cherries carry the theme with a subtle note of graham and oak, displaying a notable velveteen texture and a slight tart citric note on the pleasing finish.
Winderlea Vineyard & Winery (officially Winderlea Wine Co.) Pinot Noirs are available online at www.winderlea.com and www.avalonwine.com. A 2006 Winderlea Vineyard & Winery Ana Vineyard Pinot Noir is also available ($45). The tasting room, which offers panoramic views of the Dundee Hills, is open Memorial Day through Thanksgiving Weekend, Friday, Saturday and Sunday from 11-4. 503-554-5900.